For 30 years, SoftwareOne has been a software reseller. Our mission has been to help organizations around the world buy and manage software. With technology continuing to reshape industries and deliver meaningful change in individuals' lives, we have evolved our business and brand as a global IT services leader. We have also successfully invested and made acquisitions over the past several years to become a cloud-first services powerhouse.
As a leading all-in-one global software and cloud solutions provider we unlock the value of technology for our clients to drive positive business outcomes.
Building on our decades of commercial software intelligence, the new SoftwareOne helps clients choose the right software, services and cloud platforms and optimise them over time so their businesses can compete, scale and innovate. Successful digital strategies require deep technology skills combined with rich commercial insights, and the ability to implement and manage solutions to maximise the value of our clients' IT spend.
Our new brand reflects SoftwareOne's evolution. We deliver the all-in-one solution combining IT strategy, procurement, and optimisation necessary to win in today's competitive digital environment.
We invite you to hear from our CEO to learn more about who we've become and discover the impact we can help you achieve in the world.
CEOs and CIOs are living through exceptional times. We face global challenges including political instability, climate change and financial crises at the same time that rapid technological advances, growing security risks and skills shortages disrupt the business landscape. Every decision must be commercially astute and drive business innovation while being socially responsible. It's a crucial balance and one that we embrace.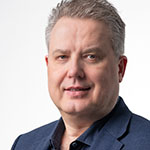 SoftwareOne CEO
"Our clients tell us they want someone who understands which technology path is going to work best for them, how they can successfully grow while permanently reducing operating costs. They want to do more than digitally transform. They want to realise digital value. Our job is to help them unlock that value.
We've assembled a team of the world's most specialised guides to help organisations on this journey. SoftwareOne is the pragmatic partner you can trust to deliver the outcomes you need in a manageable way. There are very few companies who have our depth of knowledge and data to understand what it means to truly optimise business in the cloud. We help IT leaders upgrade or replace software, then stay around to implement and support it, which is the basis of our real-world commercial advisory. At the same time, as a service provider, we see how traditional applications are optimised within this larger cloud-first SaaS environment. We believe that it's crucial to combine these technology and commercial skills and implement them together for our clients.
At SoftwareOne we've spent 30 years building our data insights and helping customers get the most out of their IT investments. Now we have evolved to lead the market with end-to-end cloud, software and technology solutions and services. We invite you to explore our expanded portfolio of capabilities and talk with us about your organisation's unrealised digital potential."
Learn more about the rebrand from our CMO
Learn more about the rebrand from our CMO