SoftwareONE is named a Leader in the 2022 Gartner® Magic Quadrant™ for SAM Managed Services
SoftwareOne is named a Leader in the 2022 Gartner® Magic Quadrant™ for SAM Managed Services
Our position as a Leader in the Gartner Magic Quadrant for Software Asset Management Managed Services recognizes our Ability to Execute and Completeness of Vision. We believe our position as a Leader is testament to the high level of service we provide to our customers globally, through our people and leading technology.
According to Gartner "This Magic Quadrant offers support for informed contracting of SAM managed services that deliver software asset management discipline. The Magic Quadrant assesses the Ability to Execute and Completeness of Vision of 11 SAM managed services providers that meet our criteria for inclusion. The positioning of providers in this Magic Quadrant is based on factors determined by Gartner as being relevant to this market worldwide."
Strategic Planning Assumptions, Gartner states that
"By 2025, 40% of organizations will utilize continuous software asset management (SAM) managed services from third parties for at least part of their rapidly expanding and increasingly complex software estate
Through 2024, 60% of enterprises will underestimate cloud infrastructure and platform services consumption rates, leading to higher costs and missed opportunities for savings.
By 2024, 40% of enterprises will use software asset management as the primary mechanism for reducing SaaS contract costs with "dominant" vendors"
Per Gartner "As software and cloud expenditure continues to grow, SAM managed services increasingly incorporate FinOps within their cost optimization discipline. Sourcing, procurement and vendor management leaders can use this evaluation of 11 vendors to select the right provider for their requirements."
We are extremely proud to be recognized for the third consecutive year as a Leader in the Magic Quadrant. As the cloud market grows, SAM is increasingly edging closer to the core of every business. SAM will advance even further over the next decade, and we expect it to become a far more integrated and strategic business intelligence function – extending towards the next generation of SAM and FinOps. Our team is excited to continue providing unparalleled expertise, innovation, and customer centric service.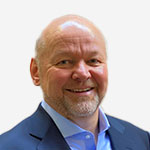 President of Services SoftwareOne